NOW AVAILABLE FOR PURCHASE!
We need your students to
crack the case!
Finally, there is a fun, interactive, and engaging curriculum designed specifically for Health Science CTE classes! Introducing: The Medical Mystery of Rosa Martinez. As Rosa's health care navigators, your students will solve a medical mystery, learn about health care careers, and dream up the next significant biomedical innovation!
LET YOUR STUDENTS BECOME THE MASTERS
Real world, project based curriculum covering
multiple disciplines and careers.
Learn how to navigate the world of health care
Collaborate as a health care team
Investigate + solve a medical mystery
LEARN + DEMONSTRATE UNDERSTANDING
Study and apply

cardiac anatomy + physiology
Cover the basic concepts of the anatomy and physiology of the human heart with your students. Then allow the realistic situation to engage your student's minds as they are tasked with teaching these same concepts to their patient Rosa!
Teach your students the structure, functions, and common issues with the anatomy of the human heart
Increase your students' concept comprehension with an engaging presentation of course content
Assess your students' knowledge and understanding with pre and post assessments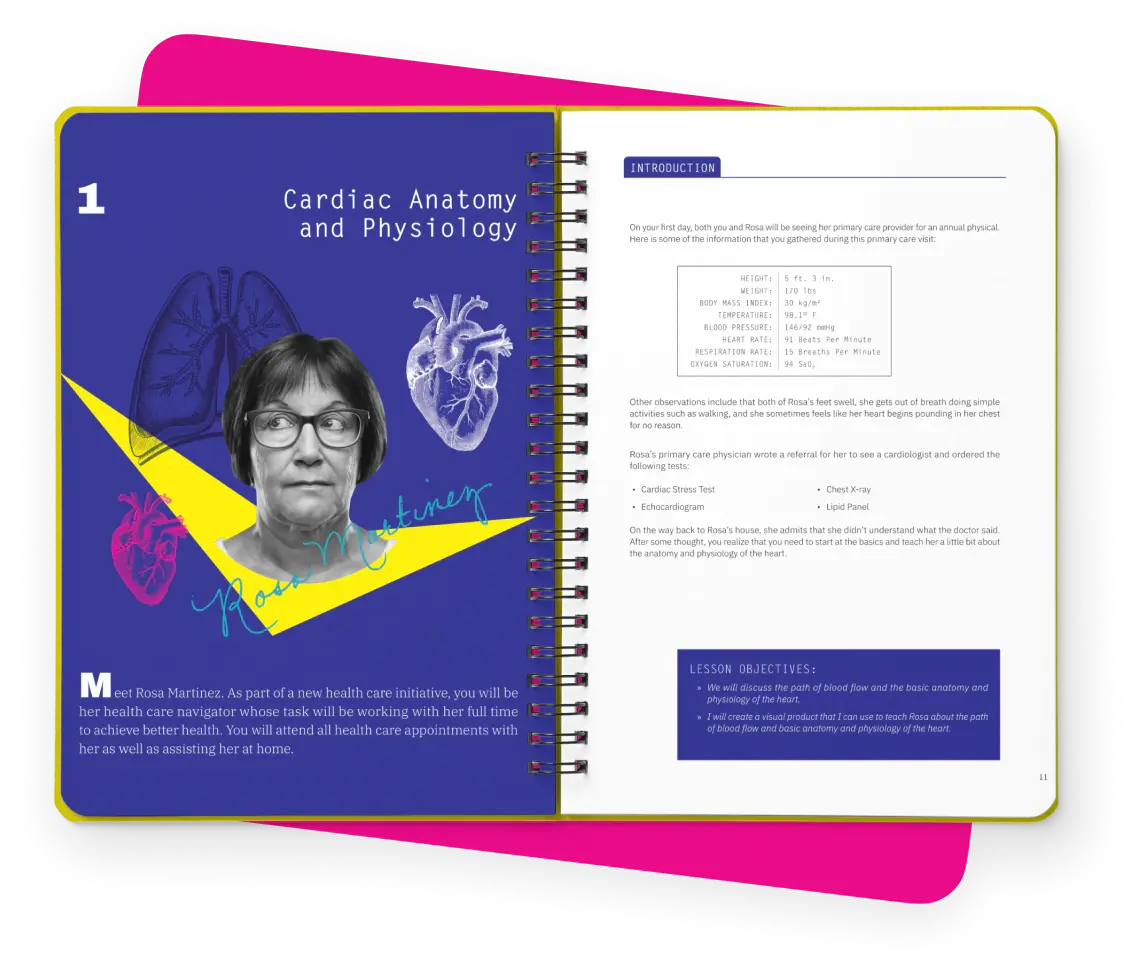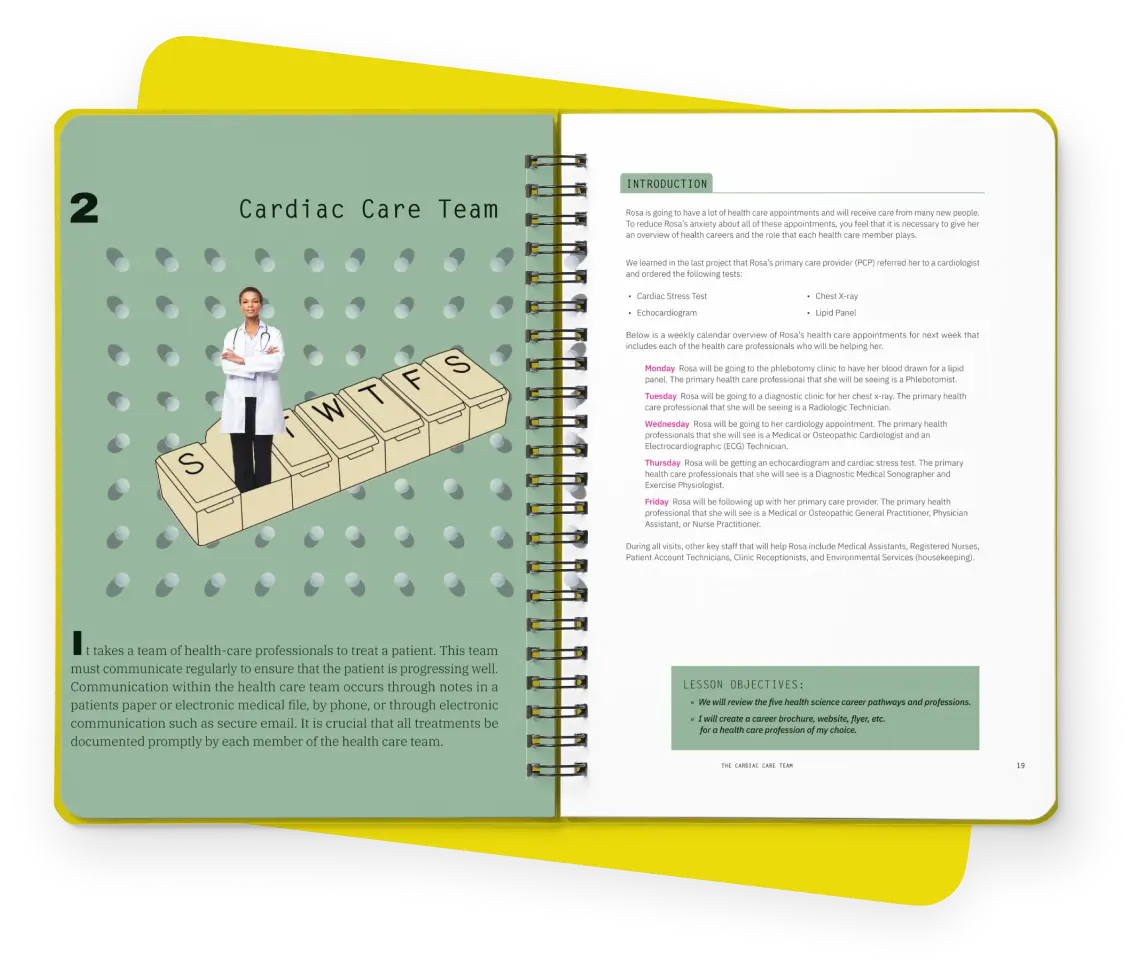 Learn to investigate

as a team
A great CTE curriculum goes beyond just learning new concepts. Students must also learn how to apply these skills in real-world settings and work as a team to achieve a common goal.
Introduce your students to various roles in the healthcare industry
Hone students' communication skills
Learn to promptly and accurately document treatments and tests
Adapt + respond

 to emergency situations
One of the most important responsibilities in healthcare careers is emergency response! Your students will get to act out a high-stakes 911 call where they will be responsible for ensuring Rosa gets the emergency care she needs.
Train your students to calmly analyze and react to a high-pressure situation
Practice managing the stress levels of both patients and healthcare professionals
Learn the proper procedures for a first response health care professional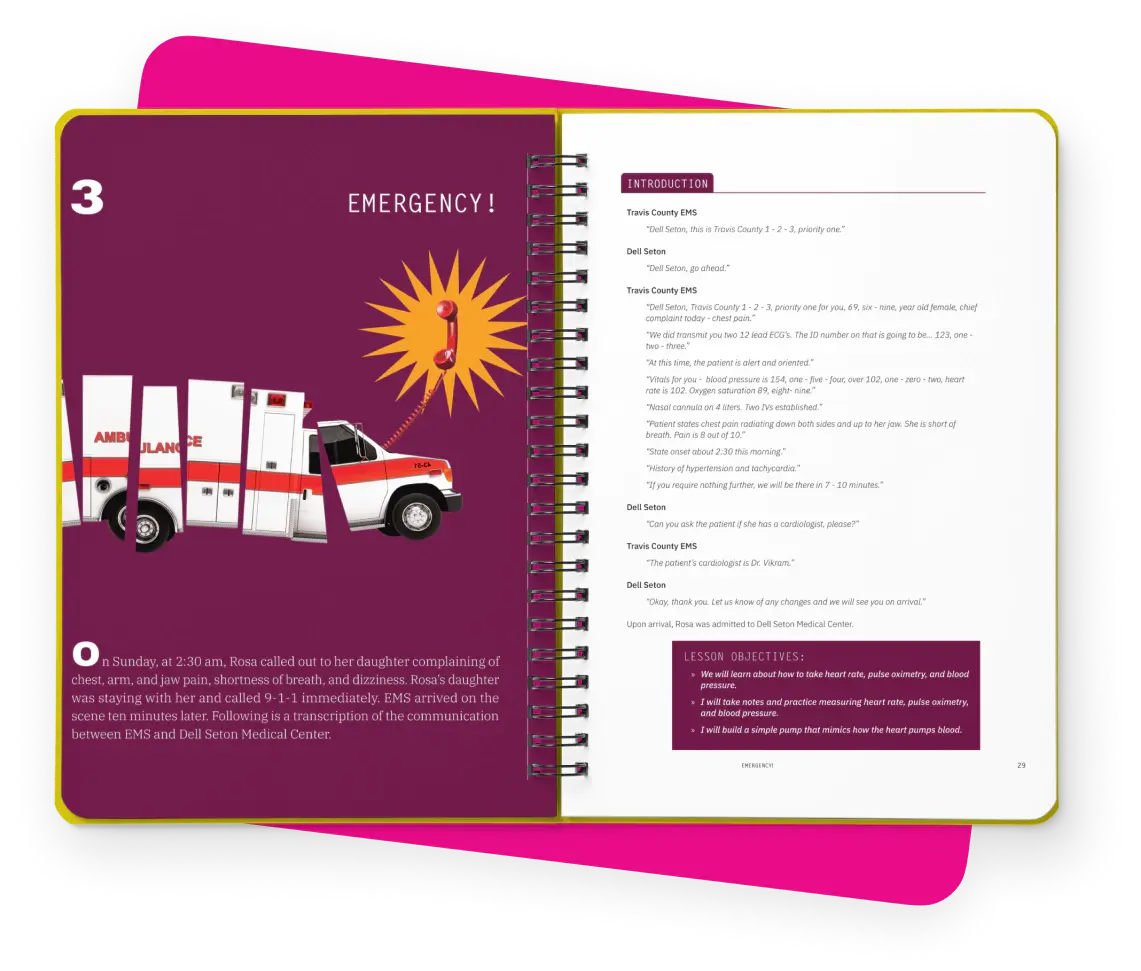 STUDY THE MOST COMMON HEALTH ISSUES
Dive into the details

+ diagnose the issues
Complete an in-depth study of one of the most common cardiac issues: blood pressure. Blood pressure issues can lead to a number of other health issues, and it is often known as the "silent killer".
Learn how to take heart rate, pulse oximetry, and blood pressure
Practice measuring, documenting, and analyzing these cardiac metrics
Build a simple pump that mimics how the human heart pumps blood
Understand the inner workings

 of the body
Your students will gain in-depth insights into the functionality and structure of the human heart. They will also learn about the electrical activity of the heart and how these metrics affect the body as a whole.
Learn about three common procedures that are performed in the cardiac catheterization laboratory
Create a clay model of the heart that contains the blood vessels and nerves
Create a model that demonstrates a common procedure used in the cardiac catheterization lab to unblock the blood vessels of the heart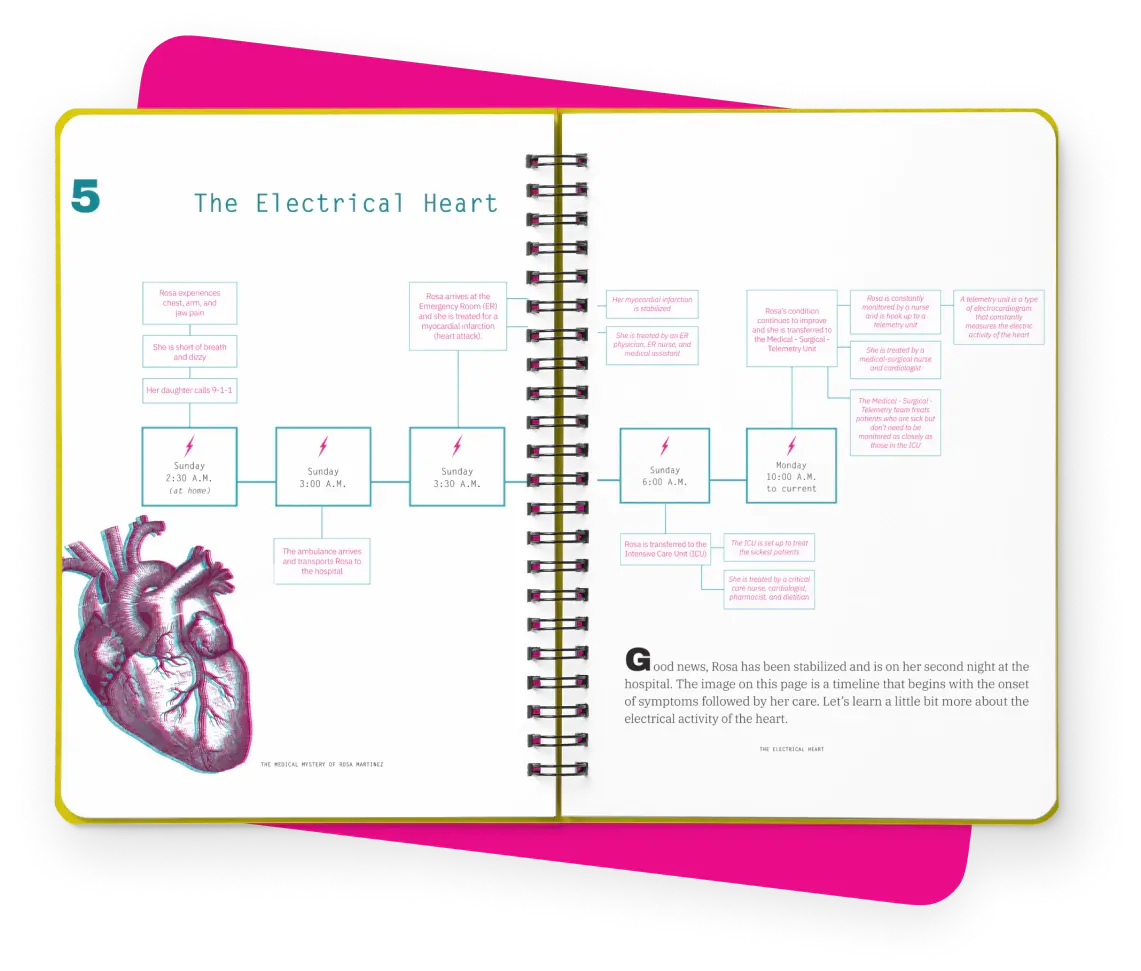 NEXT GENERATION SOLUTIONS
Innovate + create

 future solutions
After helping Rosa navigate the healthcare system and recover, your students will have the opportunity to look forward and consider what could be available in the future to help cardiac patients and healthcare professionals.
Discuss new ideas and technologies that will improve cardiac care
Create and deliver a business pitch for a new treatment or device that will help patients suffering from a heart condition